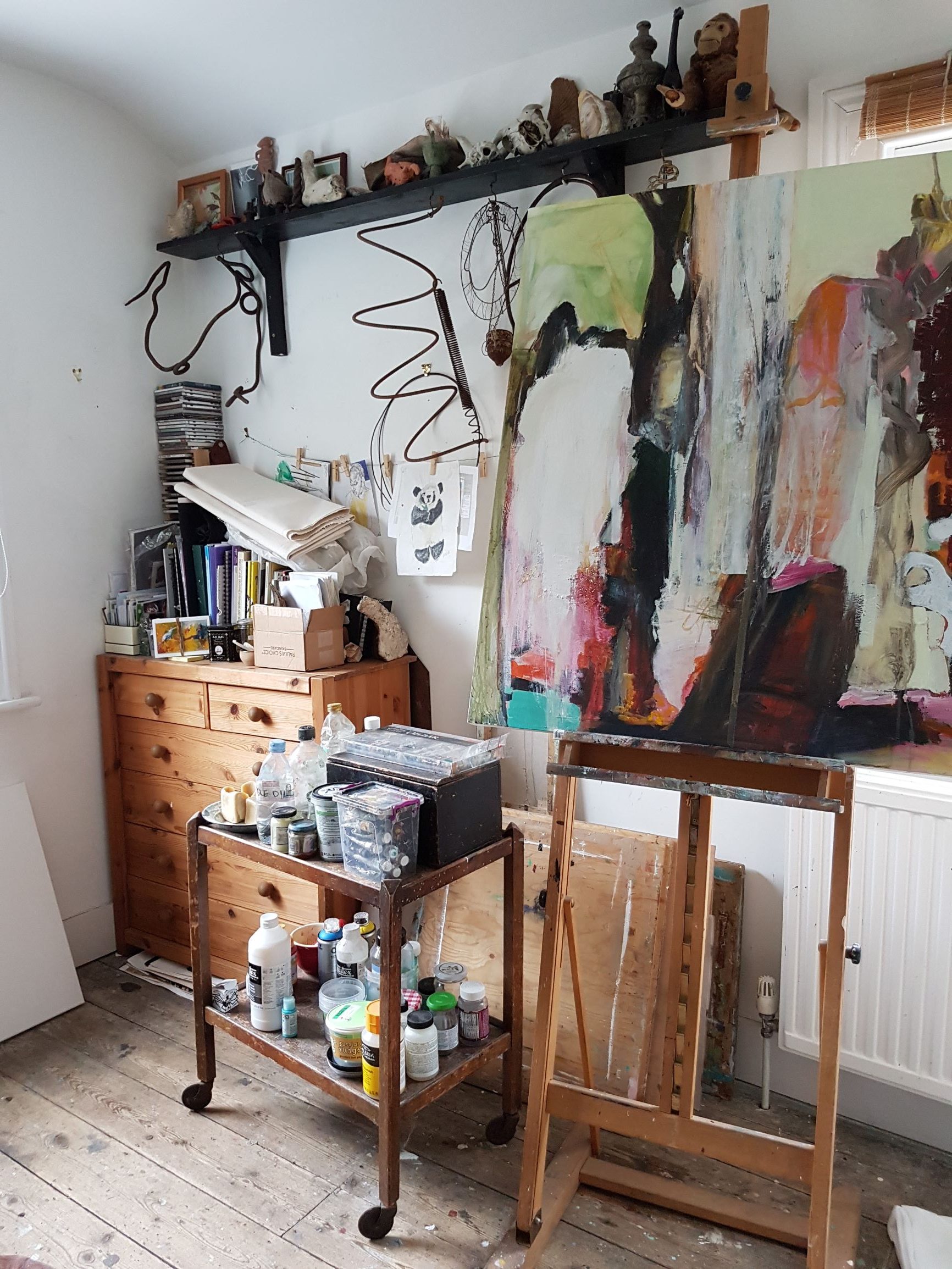 Working in both oils and acrylics I paint abstract landscapes and make small sculptures from found materials, assembling discarded things.
Current paintings are becoming increasingly ambiguous and sculptural as the process of painting itself takes over from the original inspiration for the painting, which is usually one of my own drawings, watercolours, or photographs. Often made outside, these are often of disintegrating natural and industrial structures and their natural surroundings.
The sculptures I make and have around me in the studio often inform the paintings.
Working on several canvases at once, a series of work develops. Paintings are linked by the time and circumstances in which they are made. Paint is put on and then scraped off repeatedly until 'a painting surprises me when I see it'. Early stages of a painting take time as layers build up slowly almost as if the painting needs its own history. Often, paintings are put aside for days or months and brought back so they can be tackled in new ways. I spend as much time thinking about what paintings need as actually doing the painting: what is needed for the composition, images I might use, effects I want. I never lay out my colour palette in advance. Often the last stage of a painting is done quickly and impulsively.
White paint has been a feature in my work for a while, in the past it represented water and stones, in current work the white shapes seem to have more to do with the concept of space and absence.
I originally trained as a Textile Designer (print) and then later as a Speech and Language Therapist. Having always painted, until recently almost exclusively self- taught I decided to do some formal study in painting to extend my skill base. From 2015 to 2019 I studied on a range of courses at Morley College. Notably, Stephen Wright's Advanced Painting Practice followed by two years Fine Art Mentoring with tutor Erika Winstone. The skills I acquired were the catalyst to my current practice, based in Peckham, London.
Exhibitions and Awards
2021

Rules of six, Online group exhibition with Terry Barber, Caroline Ingham,
Catherine James, Gill Lucas, Tabitha Peake
2020

Behind Closed doors ,Online group exhibition
2019

Common Ground Fine Art Mentoring students Espacio Gallery
Embody Spaghetti House, WC1A 2QD A group exhibition of sculpture and Masks and Wearable sculpture by Morley College students- tutor Lara Ritosa Roberts
London Bridge Open 2 part of London Festival of Architecture, London Bridge Hotel
Dulwich Festival Open Artists' studios

2018

Final exhibition Fine Art Mentoring students Espacio Gallery, London
Two women show with Caroline Ingham Jeannie Avent Gallery, London
Made 2018 Drawing, Painting and Sculpture: Group Exhibition Morley College
The Lovely Gallery Winners from 2017 Open Summer Exhibition

2017

The Lovely Gallery Winter Art Fair 2017 (group show)
Shortlisted National Open Art Competition UK
Dulwich Festival Open Artists' studios (and 2012, 2013)
Two Landings up; Advanced Painting Practice: Group Exhibition Morley College

2016

Shortlisted Society of Women Artists
Made: Drawing, Painting, Sculpture Exhibition, Group exhibition Morley Gallery,

2013

Royal Watercolour Society: Mall Galleries